At Viewmont Dental Centre your safety and the safety of our team is our top priority. We have been working very hard during this difficult time to be prepared for providing dental treatment in a Pandemic situation. It is important for everyone to remember that dental offices have been successfully dealing with infectious diseases for decades. This means that the majority of Covid-19 protocols are already in place. This being said, because we are in a Pandemic situation some things will be different. Each step we take decreases the risk of transmission significantly. Rest assured your risk of contracting Covid-19 at the dental office is very low.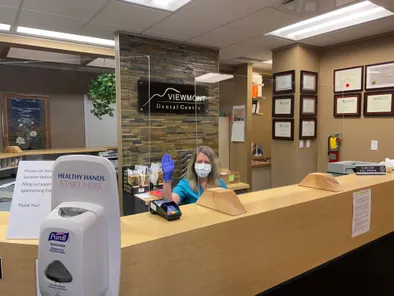 Some of the things that have changed.

Prescreening. All patients will be asked a series of questions regarding their possible Covid-19 exposure and symptoms. This will be done when their appointment is confirmed. Anyone who is high risk of having Covid-19 will be referred to the appropriate health care provider, and will not be treated at our clinic.
Cancellation policy. Because we do not want anyone who has developed symptoms to be in the office we are temporarily suspending our 2 day cancellation policy. Please let us know as soon as possible if you are experiencing Covid-Like symptoms. There will still be a fee if a patient does not show for their appointment.



We are currently asking all patients who have been off of the Island to wait 2
weeks before coming in for treatment.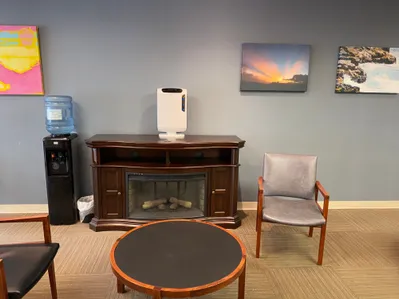 We ask that only the patient (and a supporter / guardian if needed) come into the office. This is asked so that we can successfully maintain social distancing within the office. You will be asked to wash your hands as soon as you enter the office.

I
f you feel more comfortable you are welcome to call the office from your car when you get to your appointment and reception will call you back when we are ready for you to come in for treatment.
You will be asked to fill out a Covid-19 screening / consent form (pens and clipboards are disinfected between patients).
All People entering the office MUST wear a mask unless they are unable to do so because of medical reasons or are under 12 years old.
Please wear your mask until you are seated in the operatory. At the end of your appointment, before you head to the front desk, please put your mask back on. We also ask that you wash your hands after you take it off and after you put it on again.
During Phase 2 of providing care, dental hygiene may be done with hand instruments only, hygienists are currently not polishing unless absolutely necessary.
Your dental provider will be wearing more personal protective equipment (PPE) than you are used to. They may be wearing a N95 mask, face shield, head cover, and lab coat or surgical gown. The amount of PPE they are wearing will be directly related to the procedure you are having done.
We ask that if you can to pay by Credit or Debit and to not use cash
You will be asked to let us know if you develop any Covid-19 symptoms within 5 days of treatment.

Every person who comes into the office will be logged for tracking purposes in case someone is found to be positive for Covid-19
Some of the things we are doing behind the Scenes
Rubber dams, while Dr. Gakhal and Dr. Johal already regularly use rubber dams, it is mentioned because among many other benefits they greatly reduce the chance of virus spread
Extra cleaning. The operatories have always been disinfected between every patient. However, we have also stepped up our disinfection in other areas, including the waiting room, front desk and washroom. All high touch surfaces are disinfected several times per day.
Air purification systems. We have added air purification systems to every operatory and the reception area. These clean the air several times per hour.
Plexiglass at reception, removal of all items that are not easily disinfected, removal of many of the reception chairs to aid in social distancing.
Employee screening. Like patients, employees are screened each day before reporting for work, if they have any symptoms or have been in contact with a Covid-19 positive person they are told to stay home. Their temperature is also taken when they report for work.
Staggering of patient appointments to maintain social distancing.

Staggering of Employee breaks to maintain social distancing.